Are you still wondering how to edit  Facebook posts? If yes, then do give this article a read.
You have to consider the point that even after a post has been made on a user's timeline, users can still modify it. Everyone will be able to view the revision history of a public post once it has been modified.
Moreover, Facebook Page writers and administrators can also edit posts on a Page only other writers and admins have access to the revisions made before the post was published, even though anybody may view the post's revision history once it has been published.
Keep reading to find out how to edit the Facebook posts.
Step by Step Guide 
You can learn how to edit Facebook posts by doing the following things if you ever want to offer more (or less) information or second-guess yourself:
Step#1:
Log in to Facebook.
Step#2:
Find the post you wish to change on your home page.
Step#3:
To view the available options, select the three dots.
Step#4:
Select Edit Post.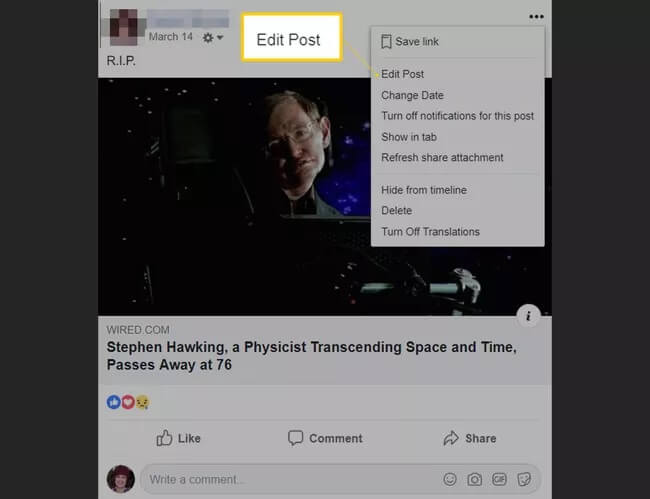 Credits: Lifewire
Step#5:
Edit the text as needed.
Step#6:
Select Save.
Hence, this is you can simply learn how to edit Facebook post by following the step-by-step guide mentioned above.
How to Delete a Photo From a Facebook Post
A Facebook post can have a photo removed from it without the post itself being deleted. This is how you do it:
Step#1:
Log in to Facebook.
Step#2:
Find the post with the photo you wish to remove from your personal profile.
Step#3:
Choose the down arrow or three-dot icon.
Step#4:
Select Edit Post.
Step#5:
To remove a photo, hold your cursor over it until an X appears in the top-right corner. To remove the image, click the X.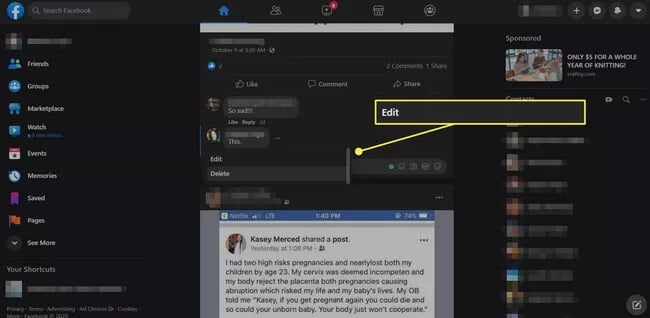 Credits: Lifewire
Step#6:
Select Save.
How to Change a Facebook Comment made on someone else's Post
Think twice before posting something on your timeline or commenting on someone else's post. How to alter it is as follows:
Step#1: Locate the comment that needs editing.
Step#2: A three-dot icon displays to the right of the remark when you move the mouse pointer over it. Toggle the icon.
Step#3: Select Edit.
Credits: Lifewire
Step#4: After making your changes, hit Enter or tap Update.
Conclusion
As we all know that one of the most widely used social networking sites worldwide is Facebook. It may be used by people of all ages to connect with family and friends and keep up with what's happening in each other's life.
You may post on Facebook yourself or leave comments on other people's posts. Your postings and comments can also be edited and removed. Follow the instructions above to learn how to edit Facebook post. 
We hope that we were helpful to you in resolving this query and we are glad that you chose us.
And apart from this if you are interested in increasing your Facebook like counts. We have got you covered as you can straightforwardly buy Facebook likes and experience increasing engagements yourself.
Do not forget to share your valuable feedback with us.