We are living in the age of technology, where social media apps have become an integral part of our lives. Technology has transformed the world into a global village, making our lives easier and bridging distances. Among the various social media platforms, Facebook stands as one of the most popular apps.
However, many users are unaware of the numerous features and functionalities that Facebook offers. Beyond simply sharing photos, Facebook provides a wide range of capabilities. In this article, we will explore how to remove restrictions on Facebook, ensuring you have a comprehensive understanding of the process.
Understanding Facebook Restrictions
Millions of people utilize Facebook on a daily basis, connecting with friends, colleagues, and even strangers online. The platform allows users to create free profiles and share photos, music, movies, articles, and their own Facebook live views and opinions with a vast audience.
However, there are certain situations where Facebook imposes restrictions on user accounts. Let's take a look at some of the common reasons behind these restrictions:
Violation of Community Guidelines: If you post offensive content on Facebook, your account may be temporarily or permanently suspended. This includes sharing material that violates Facebook's laws and regulations.
Privacy and Security Non-compliance: Failure to adhere to Facebook's privacy and security rules can result in account restrictions.
Spamming Activities: Consistently sending friend requests to unknown individuals or engaging in spam messaging can lead to account restrictions. Facebook's algorithm identifies patterns of spam activity and automatically flags accounts, triggering restrictions.
Suspicious or Inappropriate Content: Sharing content that raises suspicion or goes against community guidelines can result in restrictions.
Unsolicited Messages: Sending spam messages to other users can also lead to account restrictions.
It is important to note that sometimes restrictions can occur mistakenly, even when you are innocent of any wrongdoing. In such cases, you have the option to submit a request to the Facebook community to review your account and lift the restrictions.
Removing Restrictions from Your Facebook Account
To remove restrictions on your Facebook account, you need to follow these simple steps:
Access the Facebook app on your mobile device or open it in your browser.
Navigate to the request review page, which can be found on the official Facebook homepage.
Sign in to your Facebook account using your email address or phone number.
Fill in the requested information, including your precise Facebook account name, and upload your ID as required.
The Facebook community will review your request and make a decision regarding the removal of restrictions.
Removing Age and Country Restrictions
If you wish to remove age and country restrictions on your Facebook account, follow these steps:
Open your Facebook homepage.
On the left-hand side of the homepage, locate the pages you own or are an admin for.
Select the page for which you want to make changes.
After accessing your account, click on "Edit Settings."
A new page will open with various settings related to your Facebook restrictions.
Removing Country Restriction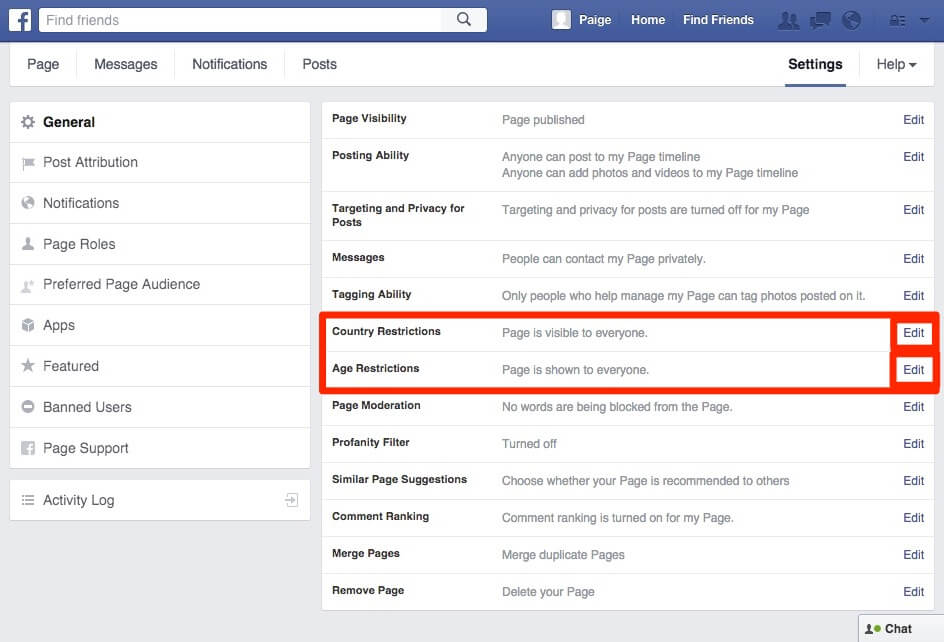 From the new page, navigate to the country restriction section.
Remove the names of all countries from the list and select the option "Hide this page from viewers in these countries."
This action will allow Facebook to display your page to residents worldwide, enabling them to view and interact with it freely.
Removing Age Restriction
Facebook has recently expanded its services to include individuals under the age of 18. To allow users of all ages to engage with and like your page, select "Anyone (13+)" in the age restrictions box.
Avoiding Restrictions on Your Facebook Account
To avoid restrictions on your Facebook account, follow these best practices:
Familiarize yourself with the type of content you can publish according to Facebook's guidelines.
Only send messages to individuals on your contact list or people you personally know.
Limit friend requests to people you have a genuine connection with.
Refrain from engaging with or liking posts that violate Facebook's community rules.
Stay informed about Facebook's policies and ensure your actions align with them.
Appealing an Unjustified Account Restriction
If your Facebook account is mistakenly restricted, you have the option to appeal to Facebook for its removal. Here's how you can submit an appeal:
Send a request to the Facebook community, clearly explaining the situation and providing any necessary evidence.
The Facebook community will review your request and take appropriate action to remove the restrictions.
If you have not violated any community rules, this restriction will not have any negative impact on your account in the future.
Conclusion
The Facebook community operates based on its own set of rules and regulations. It actively detects and takes action against individuals who engage in inappropriate behavior on the platform. However, Facebook can sometimes impose restrictions mistakenly. In such cases, users have the right to appeal to the Facebook community for account restoration.
Facebook has also made adjustments to its policies, such as removing age limitations and allowing users to remove country restrictions. It is crucial to use the platform responsibly, avoiding the dissemination of spam or explicit content. By following these guidelines, you can make the most out of your Facebook experience while staying within the community guidelines.
FAQs
Q: How can I edit the restriction list on Facebook?
To edit the restriction list on Facebook, follow these steps:
Access Facebook using a computer.
Go to the Explore option in the left menu and click on Friend Lists from your News Feed.
Select "Restricted."
In the top right corner, click on "Manage List."
Choose "Edit List" from the menu.
Q: How long does a Facebook restriction last?
For repeated infractions, a Facebook restriction can result in a 30-day ban. This temporary suspension can be challenging for individuals who rely on Facebook as their primary means of communication, especially when they have distant relatives or friends they wish to stay connected with.
Q: Why was my Facebook account temporarily disabled?
If you have been posting excessive or unwelcome content within a short period, your Facebook account may be temporarily disabled. Sharing posts that violate community guidelines can also lead to a temporary ban on sharing posts on Facebook.