Did someone hack your account and pretend to be you? Then you should know that it is against the Instagram community guidelines and you have the right to stop it from happening.
To avoid such circumstances, Instagram gives you the option to report a profile that is either pretending to be you, is a scam, or is used by a minor.
In this article, I would be guiding you on how to report an Instagram account and get it deleted. So, stay in the loop!
How to Report an Instagram Account?
In order to report an account, you need to follow the below-mentioned step guide carefully:
Step#1: Open the profile you want to report and tap on the three dots at the top right corner.
Step#2: Tap on 'Report'
Step#3: Choose the reason you are reporting the account, its post, comment or message.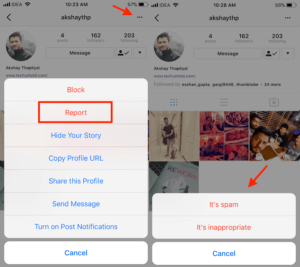 (TechUntold)
Can an Instagram Account be Deleted if Reported?
The account may be removed by Instagram as a result of three or four reports from different accounts according to the justification provided for the reports.
In addition to this, Instagram will warn users that their accounts may be deleted if they persistently breach the terms of service. At such a point, any future violations against the Instagram community guidelines may result in the account being permanently deleted.
However, the Instagram team reviews every reported account and makes the choice of whether to delete or leave the account alone
How long does Instagram take to delete a reported account?
The time taken on Instagram to delete a reported account is not fixed. Sometimes, it takes twenty-four hours while in some cases, it takes up to three days.
At times, all it takes to delete a reported Instagram page is one genuine request that meets all the requirements. And, something that is entirely against the community guidelines.
Conclusion:
Now that you know how to report an Instagram account and get it deleted, you should instantly stop the profile that is pretending to be you or someone you know.
But, before reporting an account, you must know the reason you're reporting. Otherwise, your request might be ignored by Instagram as your problem behind reporting would be unclear.
For any further queries, feel free to reach out.