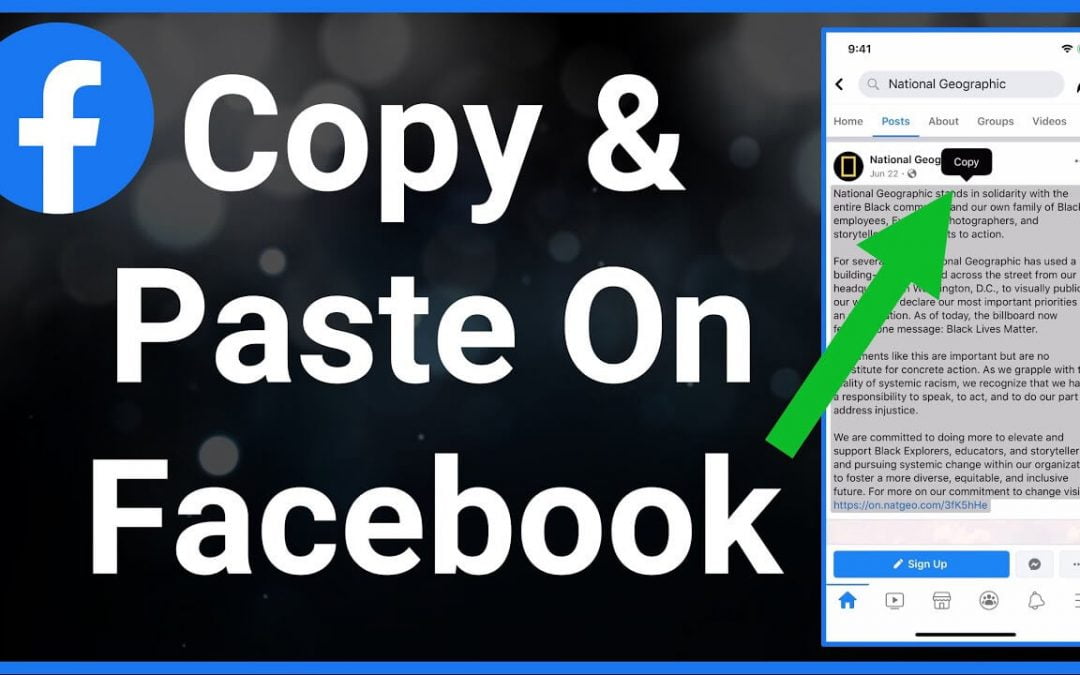 All you have to do to share a post on Facebook with your friends or followers is copy it and repost it. Facebook's Share function makes this simple. Videos, pictures, links, and text may all be reposted. 
Moreover, on Facebook, sharing is a rapid way to disseminate concepts and advertisements. Sharing enables you to repost the original and even add your own comments at the beginning of a post rather than attempting to rephrase it. 
Even if the message appears on your wall, the original poster still receives credit when utilizing the official Share tool. 
Though still there are many users who are struggling to find out how to copy a Facebook Post. So for them, we have structured this article with proper guidance. Keep reading to learn the procedure.
 Method#1: Using a Web Browser
Step#1: Launch Facebook in your browser. In the address box, type or paste https://www.facebook.com and hit Enter or Return on your keyboard.
Step#2: Locate the post you wish to copy. Any post from your Timeline, News Feed, group, website, or the profile of another user can be copied.
You can open and copy posts without signing in.
Step#3: At the top of the post, click the date or timestamp. The posting date and/or time are listed at the top of each post, just behind the poster's name. The chosen post will then be shown on a new page.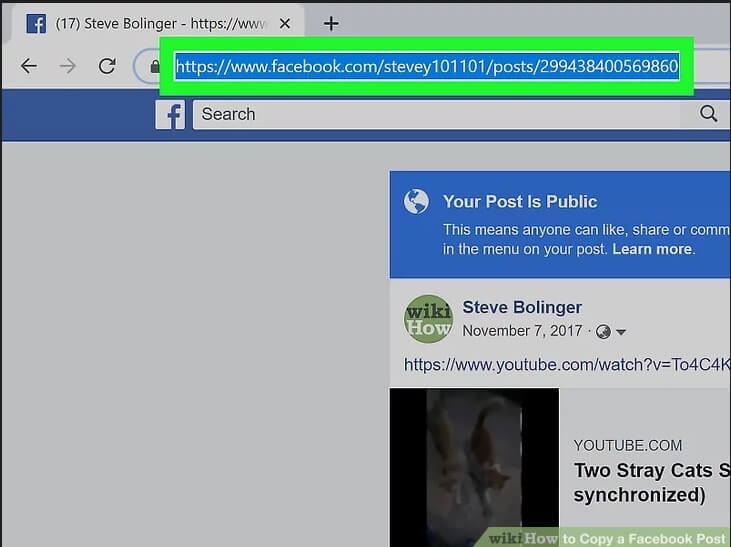 Step#4: Click on the address in the address bar twice. The URL that appears in the address bar of your browser is a direct connection to the chosen post. This will choose the address bar's URL link and give it a blue highlight.
In the address bar, be careful to click on the complete URL link.
Step#5: Right-click the URL link you have chosen. This will display a drop-down menu with your right-click choices.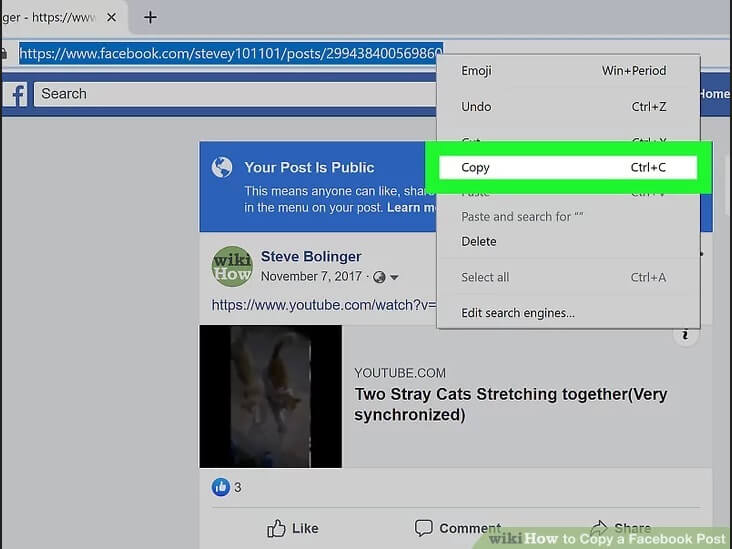 Step#6: On the right-click menu, select Copy. With this, the URL link will be copied to your clipboard. To share the content with your acquaintances, simply paste the URL wherever you like.
This URL points directly to the chosen post.
Hence, this is how you can easily learn how to copy a Facebook post on a web browser by carefully and thoroughly following the steps mentioned above.
Method#2: Using the Mobile Phone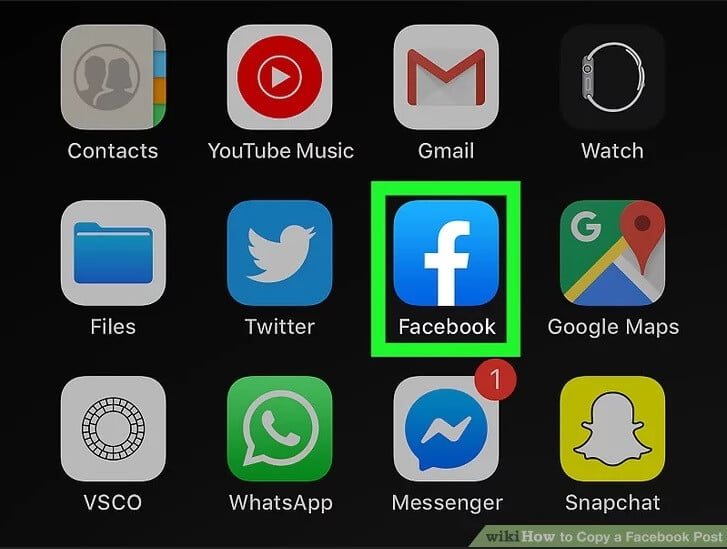 Step#1: Launch the Facebook app on your tablet or smartphone. The Facebook logo is an "f" in a blue square that is white. It may be found in an app folder or on your home screen.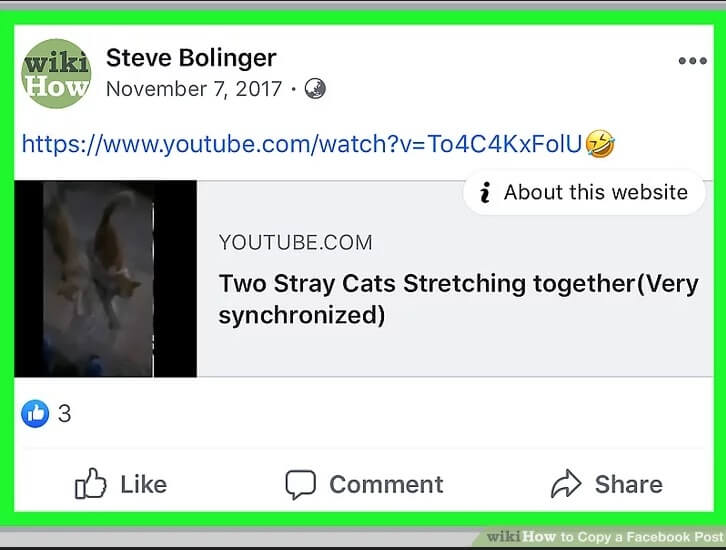 Step#2: Locate the article you wish to copy. A post can be copied from your Timeline, News Feed, a group wall, a page, or the profile of another person.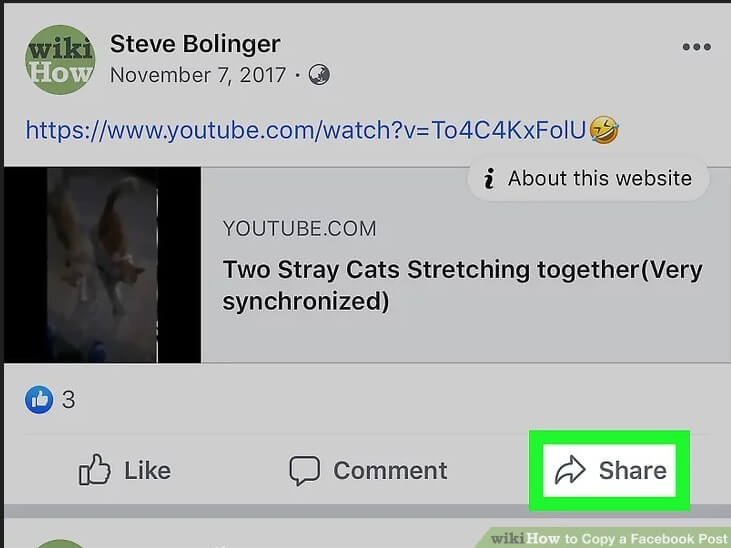 Step#3: A post's share button can be tapped. Every shareable post has a button that resembles an iPhone forward.png symbol in the lower right corner. Your sharing options will appear in a pop-up menu.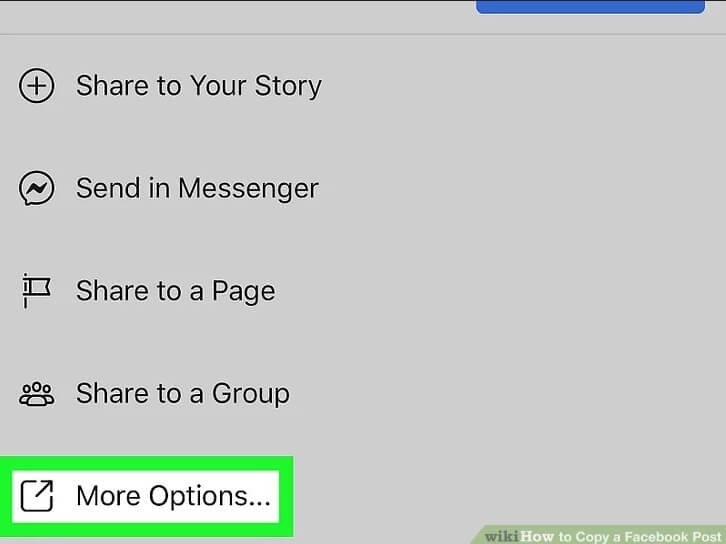 Step#4: Select "More Options." It is located at the base of the Share menu. It will display a new menu with all of your sharing choices.
You could notice a Copy Link option in place of More Options on some Facebook editions. To quickly copy the post link in this scenario, touch this button.
Step#6: On the pop-up menu, select Copy. This will add the URL link for the chosen post to your clipboard. It is now ready for pasting.
However, you can find out how to copy a Facebook Post on your mobile phone by easily following the step by step guide above.
Frequently Asked Questions
Why copy and paste instead of share on Facebook?
The material will vanish from your feed if you share a Facebook post and the original author decides to remove it. You won't have to worry about that if you copy and paste, and the author of the original message won't be identified.
How do I copy a Facebook video?
The clipboard on your computer cannot be used to copy videos, but there are ways to download Facebook videos. You may share the video as an original post once you've downloaded it.
How can I copy the link to my Facebook page?
Go to your Facebook profile in a web browser and paste the URL in the address box. Go to your profile in the mobile app, hit the three dots, and then select Copy Link.
Conclusion
However, we have to admit the fact that Facebook has over 2.91 billion monthly active users which makes it one of the most popular social media platforms too.
In addition, still, there are many users who are not yet fully aware of every feature of Facebook. And this leads to the formation of many queries in the user's mind.
So, keeping this in mind we have started to explain the answers to your queries with our best knowledge just like we elaborated the procedure of how to copy a Facebook post above.
And apart from this if you are fed up with implementing various techniques to gain some serious amount of Facebook likes and have experienced failure in doing so. No need to worry about that as we have got you covered. 
We would simply suggest you purchase Facebook likes and enjoy the perks of being our reader.
Do not forget to share your valuable feedback with us.