Are you tired of dealing with spam bots on your Facebook page and looking for effective ways to block them? Look no further! In this blog post, we will guide you through the process of blocking bots on Facebook, putting an end to this annoying issue once and for all.
While chatbots have become popular in digital marketing, they can sometimes be bothersome, especially when they keep popping up on your Facebook post comments. If you're interested in learning how to block bots on Facebook, continue reading for a step-by-step guide.
Step-By-Step Guide to Blocking Bots on Facebook
There are several strategies you can employ to stop spamming bots on Facebook. One option is to unsubscribe from or ban the bots. However, if you want to reduce the number of frequent communications the bot delivers while still wanting to keep in touch with it, you can consider unsubscribing.
To unsubscribe, simply send the bot a message with the words "STOP" or "UNSUBSCRIBE" to terminate your subscription. You will receive a communication informing you of the suspension of updates.
If you want to prevent bots from sending you messages in the future, you can disable them. To do this, follow these steps:
Go to the chat screen on Facebook.
Click the "Recent" tab to locate your chat.
You will find two options: "Block sponsored communications" and "Block all messages."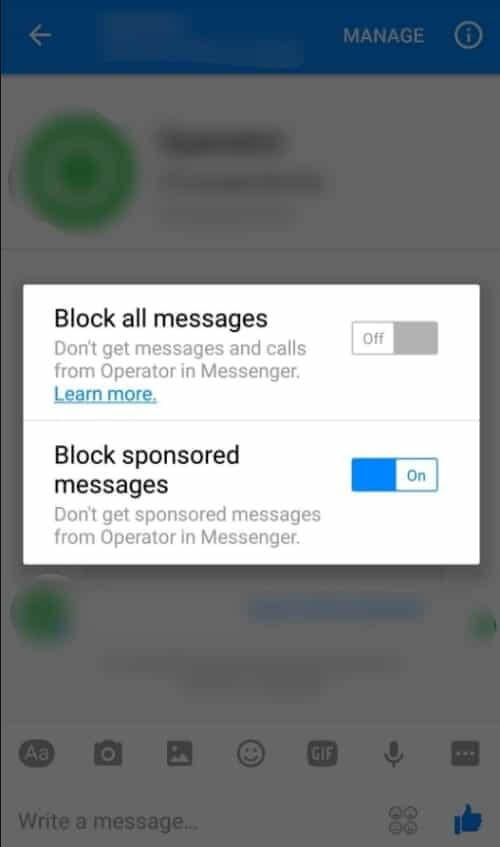 Credits: Fixingport
Block All Messages
If you want to completely prevent bots from sending you messages in the future, choose the option to "Block all messages." This will disable all messages from bots.
Block Sponsored Messages
It's worth noting that bots initiate discussions with you to market goods or services related to your search phrases. If you still want to receive messages from the bot but wish to block sponsored communications, you can turn on the option to "Block sponsored messages." This way, you can ask your questions without drawing unwanted attention to yourself.
conclusion
In conclusion, according to the most recent statistics from the fourth quarter of 2021, Meta, the parent company of Facebook and Instagram, estimates that fake accounts make up approximately 5% of monthly active users on Facebook. We understand that dealing with bots can be irritating, especially when you're engaged in important activities. That's why we've created this guide to help you block bots on Facebook.
We're glad that you chose us to assist you in learning this procedure, and we hope that our guide has been helpful to you. If you're looking to boost your likes on Facebook count quickly, we've got you covered with the option to buy Facebook page likes.
We value your feedback, so please don't hesitate to share your thoughts with us.