Are you one of those who are wondering how to add line breaks in your Instagram bio? If yes then you are at the perfect spot. It is a matter of fact that most individuals use Instagram to consume amusing and/or aesthetically beautiful stuff. They are not there to listen to a narrative.
So seeing a long, unformatted caption might irritate them. The same is true for unformatted, haphazard bio. However, for some companies and influencers, you may need to create a lengthy message for your caption. Adding spaces between lines is not something you can just ignore in this circumstance.
In this article, we have elaborated the perfect step-by-step guide for you to learn how to add line breaks to your Instagram bio. Have a look to know how.
How to Add Spaces in Instagram Bios and Captions: Three Methods Expounded.
There are several methods for including spaces in your Instagram bio and captions. In this part, we will go through three alternative strategies for getting the appropriate spacing for your purposes. Option 1 for Adding Spaces: Use Symbols or Emojis to Create Line Breaks.
Using symbols or emoticons to create gaps in your Instagram bio and captions is the simplest option. It is also the quickest way to add line breaks, and you can still text into the Instagram app. This makes it much easier to include spaces in your Instagram profile and captions. Moreover, if you wish to use symbols, here are some examples:
Period OR (.)

Dash OR (-)

Em Dash OR —

Asterisk OR

*
You may use these characters in your Instagram bio or caption wherever you require a line break. This extra character will serve as a space between paragraphs, resulting in solving your query about how to add line breaks in your Instagram bio.
Alternatively, you may add emoticons to your captions to make them more entertaining. If you are like most people, you probably use emoticons to add some personality to your text messages. But did you know you can use emoticons to add visual interest to your Instagram posts?
However, adding spaces between paragraphs on Instagram may be beneficial in a variety of ways. For starters, it might help to break up the monotony of a big block of text.   Second, it might assist in drawing attention to key areas of your caption. Third, it might improve the overall aesthetic attractiveness of your content. Have a look at the example below.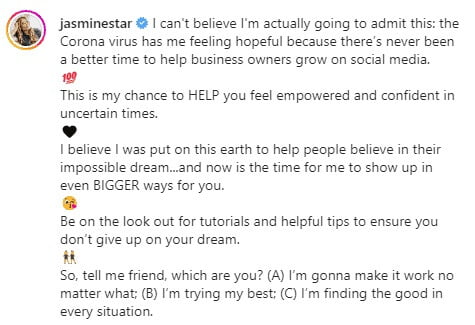 Credits: Shane Barker
However, the biggest disadvantage of using this option for adding spaces and line breaks in Instagram captions and bios is that the symbol will appear in your Instagram bio or caption.  On the other hand, if it is not an issue for you, you should proceed with this procedure. Make your caption more visually attractive by using symbols and emoticons.
How to add line breaks in your Instagram bio?
Fill in the bio or caption field on Instagram with your Instagram bio or caption.

When you require a line break, use your keypad's "Enter" or "Return" buttons.

In the next line, insert the symbol or emoji. You may use a period to hide it as much as possible in your Instagram bio or caption.

Tap "Enter" or "Return" once again to begin entering the following paragraph.

If you need extra line breaks between two paragraphs, repeat steps 1 and 2 in your Instagram bio or caption as necessary.
Furthermore, if you are keen to learn the shortcut behind making your social media handles more engaging. Do not worry as you can buy Instagram saves and if you are working on YouTube too then we would sincerely suggest you buy targeted YouTube views too.
Option 2 for Adding Spaces: Use Your Phone's Notes App to Create Invisible Line Breaks. What if you do not want lines or symbols in your Instagram bio or captions but want to include line breaks? When you try to add spaces to your Instagram caption, all of the paragraphs run together. It is the absolute worst.
But, thankfully, there is a simple solution that does not require any costly tools or complicated workarounds to add spaces between paragraphs on Instagram. If you want to find out how to add line breaks in your Instagram bio and want them to be invisible, you may accomplish it by utilizing your phone's Notes app.
If you use the scheduling app, you may utilize that instead of the Notes app to make your drafts. Meanwhile, the following are the methods to create an invisible line break to your Instagram bio or caption using this option: In the app, enter your Instagram bio or caption.
When you need to insert a line break, just copy and paste these invisible spaces onto the following line. The spaces are included within the brackets.
[                        ]
Paste it multiple times if you want to add more than one line break.

Then remove the brackets.

Copy the whole draft and then paste it into the Instagram bio or caption space, if you are using a Notes app.
So, the next time you are struggling to format your Instagram bio and captions, keep this little tip in mind. It will save you a lot of time and effort.
Moreover, if you are typing your drafts in a scheduling app, simply submit them to Instagram as normal. The line breaks will be copied automatically along with the remainder of the document. Simply share it as is, and Instagram will format your caption with the required spacing.
Furthermore, in the screenshot below, you can observe invisible line breaks between the caption's two paragraphs. They make the whole caption look neat and aesthetically pleasing.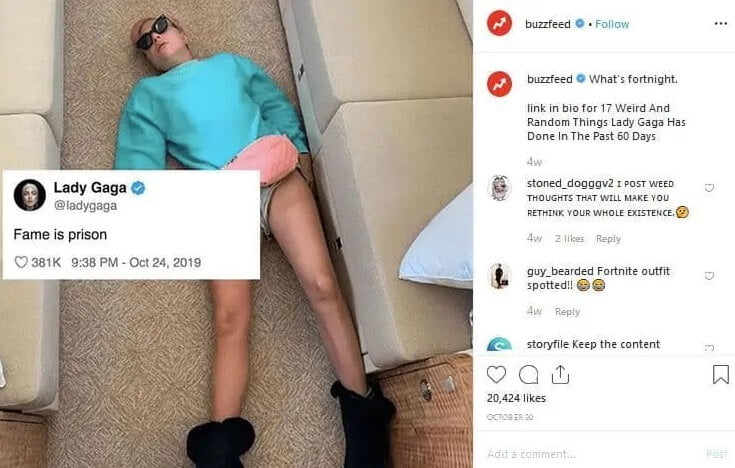 Credits: Shanebarker
Conclusion
If you are anything like us, you have probably posted a "wall of text" on Instagram at some point. And while we are all for getting our point across in as few words as possible, we know that sometimes you need to be a little verbose. In such cases, black space can help make your content more understandable (and, let's be honest, more visually appealing).
However, adding line breaks to Instagram bios and captions may also enhance user experience dramatically.  So the next time you sit to create your Instagram captions or bio, try any of the ways outlined in this post about how to add line breaks in your Instagram bio.
It will make a huge difference! Apart from this if you are having trouble enhancing your online engagements on Instagram. So you do not have to be upset about it.  We have got your back in every situation.