Instagram serves as an excellent platform for sharing the daily highlights of your life and activities. Its aesthetic appeal enhances the experience. If you're wondering how to fit a whole picture on Instagram, we've got you covered.
Everyone wants their images to appear nice on Instagram, and it may be aggravating to see them cropped by Instagram once you have finally captured the perfect shot.
In addition, Instagram employs a variety of image aspect ratios, including 4:5, 1:1, and 1.91:1 for portraits, squares, and landscapes. If your image does not comply with Instagram's image requirements, it will be cropped to fit.
However, there are multiple methods by which you can learn how to fit a whole picture on Instagram. Read on to find out how to fit a whole picture on Instagram for a more consistent look.
Use Instagram's Crop Feature to Resize Your Photos
When Instagram initially launched, it only allowed users to submit square photographs with a 1:1 aspect ratio.
However, an upgrade in 2015 modified this, allowing users to upload portraits and landscape images as well.
Using Instagram's crop function, you can easily resize your photos. On the bottom left of your post screen, you will see a light grey emblem with a white frame inside when creating a new post. When you click it, your photographs will be automatically resized to suit the frame. Pinch your fingers together to make your image smaller so it will fit in the post. And you will for sure get the answer to your question of how to fit a whole picture on Instagram.
The primary disadvantage of this procedure is that it is restricted, and it may not totally cover the surplus or resize them in an odd manner. You want your photos to seem attractive, natural, and tidy, but the zoom option can only take you so far.
If this strategy does not work for your image, resizing it manually using a photo editing tool or third-party software is a far better option.
Resize Your Image Manually
Manual resizing is the easiest approach to learning how to fit a whole picture on Instagram. This method of resizing your Instagram photos will give you complete control over the image.
Furthermore, it is vital to keep in mind that resizing your image will result in some empty space around it. The wonderful part is that you can create a custom background for your photographs if you manually resize them.
BunnyPic, a free online Photoshop editor, is a terrific tool to utilize. You don't need to register, install it, or be concerned about having a watermark on your photos. It is completely free to use and is suitable for beginners.
Follow the steps below to resize your photographs using BunnyPic:
Step#1: Firstly open BunnyPic editor.
Step#2: Then Select the image you wish to resize by clicking Open from Computer.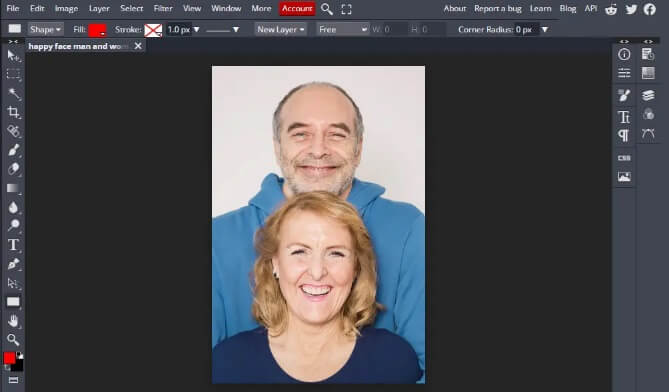 Credits: BunnyPic
Step#3: Scale the canvas to 1080 × 1080 pixels or a 1:1 aspect ratio by going to Image and tapping Canvas Size.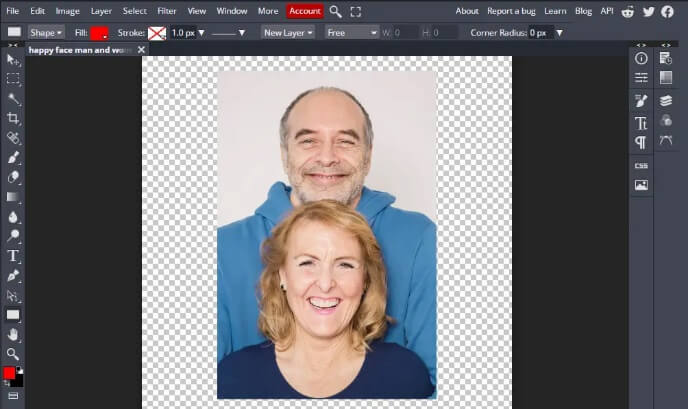 Credits: BunnyPic
Step#4: Make a New Layer and position it beneath the image layer.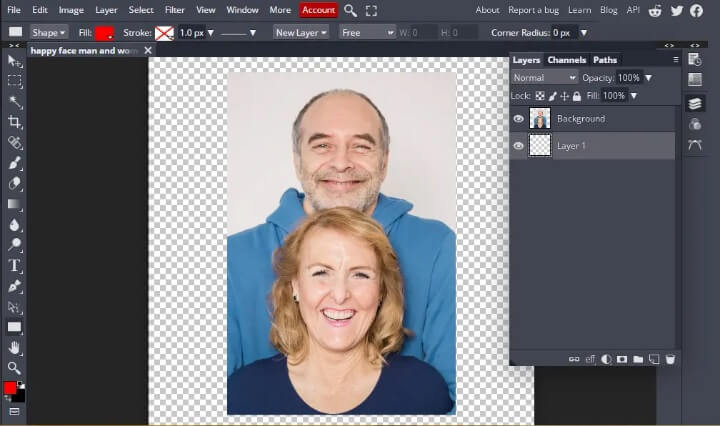 Credits: BunnyPic
Step#5: If you and your followers choose dark mode, fill the new layer with white or black.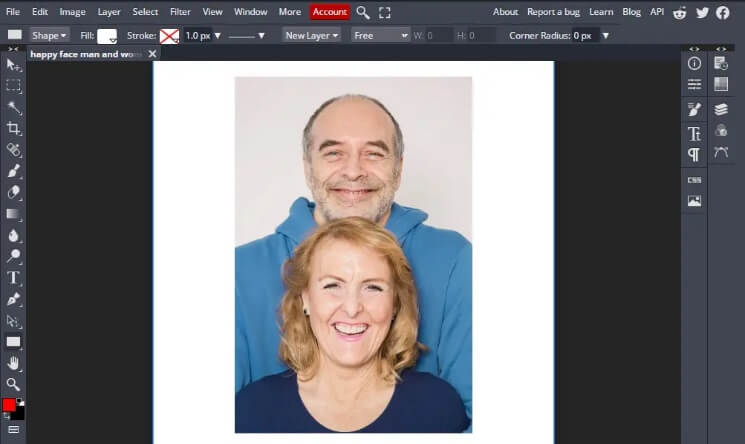 Credits: BunnyPic
Step#6: When you're satisfied with the outcome, go to File > Export As and save it as a PNG or JPG.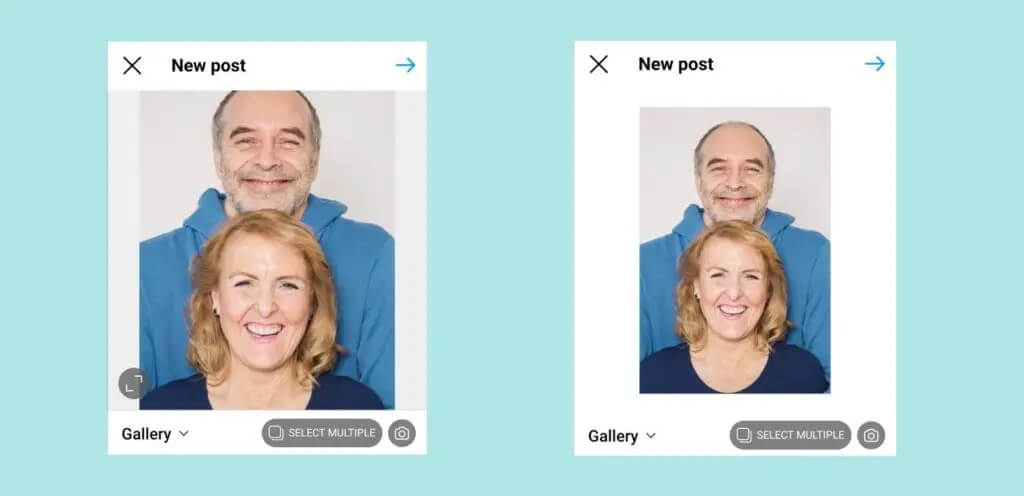 Credits: BunnyPic
When compared to the cropped image from before, you can see how the image now fits exactly inside the frame without losing any of its original value.
Hence, this is how to fit a whole picture on Instagram by manually resizing the photograph you want to upload.
Making Use of Third-Party Apps
The above procedure should work for all of your photographs, but you can use third-party apps to maintain the entire process on your phone without having to go between your photos on your computer.
Moving on, you may download a variety of third-party applications from the Google Play Store and Apple App Store that can automatically scale your photographs to fit your canvas.
The No Crop & Square and Whitagram are the finest free tools for making photos fit on Instagram without cropping.
No Crop & Square
No Crop & Square for Instagram is an app that allows you to modify your photographs for Instagram in a variety of ways.
It includes several resizing options, including rotation, shrinking, and enlarging. You can also add text and stickers to your photographs, making it excellent software for a variety of uses.
No Crop & Square is a free Android app that can be downloaded from the Google Play Store.
And with this application, you can easily grasp how to fit a whole picture on Instagram.
Whitagram
Whitagram is an iOS app that lets you apply white borders to your photos and resize them for Instagram.
It is quite similar to the previous program and will accomplish the work of making your photographs seem cleaner without requiring you to go through a lengthy editing procedure.
Whitagram is available for download from the App Store so you can easily find out how to fit a whole picture on Instagram.
Conclusion
Instagram is a terrific app for sharing photos online. But it may be inconvenient when the app crops your image to fit it inside the post.
This cropping is sloppy, resulting in an odd appearance that is not what you meant. And this results in many users questioning how to fit a whole picture on Instagram.
You may use Instagram's crop function, BunnyPic editor, or third-party applications on your phone to resize your photographs and find out how to fit a whole picture on Instagram.
Last, but not least, we also care about your hard work. And if you are working really hard and still cannot reach your desired followers and views on Instagram. Do not worry we have got you covered, you can simply purchase cheap Instagram followers and cheap real Instagram views.
We hope that we were helpful to you and if you liked this article do not forget to share your feedback with us.