Have you ever tried to find out how to get a taken Instagram Username?
When you attempt to register an account for yourself, your company, or a customer, you frequently encounter this issue.
Sadly, finding the perfect username will get more difficult over time.
But for most people, though this is not the end of the world. They just select a username that is already in use by adding commas, dashes, underscores, or acronyms, as Instagram advises.
But you area not like most people
Setting a separate username for your own brand would not ever be an option if you take your brand seriously, just like Gollum looking after the ring.
Therefore, I would like to walk you through an authentic way of how to get a taken Instagram username. Be with us and read this article till the very end to know the solution.
Requirements you need to fulfill in order to get a taken Instagram Username.
In order to get a taken Instagram username and properly submit a trademark violation or infringement, you will need:
Basic contact details (whether they belong to you, your clients, or your business.)
Information or evidence from the trademark certificate
The user ID you wish to own or report
Your motivation for obtaining that username
Let's begin with the fundamentals.
What is a Trademark?
In line with Instagram:
A trademark is anything that a person or business uses to set their goods or services apart from those of competitors, such as a brand name or logo.
In general, trademark law works to prevent customers from being misled about who offers, supports, or otherwise has a connection to a certain item or service.
And in order to avoid it, a trademark holder may be able to ban others from using their brand (or a trademark that is confusingly similar) without their consent.
Let's start working now.
Verify the account's status before requesting the username.
Before doing anything further, you must ascertain the status of the username you wish to obtain. Planning how you will convey the report's content throughout this phase is essential. Not a single item should be missed.
The account has how many posts?
When did the account post for the first and last time?
Is the business category of the account the same as yours?
Is the content of the user comparable to yours?
Does the profile photo have a clearly identifiable logo?
Can your viewers be misled by the user's content?
Could that account endanger your brand?
Remember that it will be more difficult for you if the account is inactive or private.
Make your Offer?
Be fair, please. Because you were late to the party, you don't own the username. Before invoking the force of the law in this situation, you may try to contact the user and make an offer, which is what I believe to be the moral thing to do.
In my instance, I got in touch with the @Mercating user and tried to make a 500 USD offer, but I was unsuccessful.
Making an offer is entirely up to you, so it's perfectly acceptable if you decide not to.
Use the Instagram Help Center to navigate.
Though it might be challenging to report this sort of issue on Instagram. Therefore, if it is more convenient for you, you could wish to start this procedure on a screen device other than a mobile one. Only for demonstration reasons are the photos you will see here.
Go to https://help.instagram.com/ to see the Instagram Help page.
And then you have to click on Privacy and Safety Center > Report Something > Intellectual Property > Learn more to report trademark infringements from the sidebar menu.
Credits: Mercating
You will arrive at the "Trademark" page after clicking "Learn more about reporting trademark violations." Select "Fill out this form" there.
Credits: Mercating
The page "Reporting a Violation or Infringement of Your Rights on Instagram" should now be visible to you.
Continue with your trademark report by selecting "Trademark" next.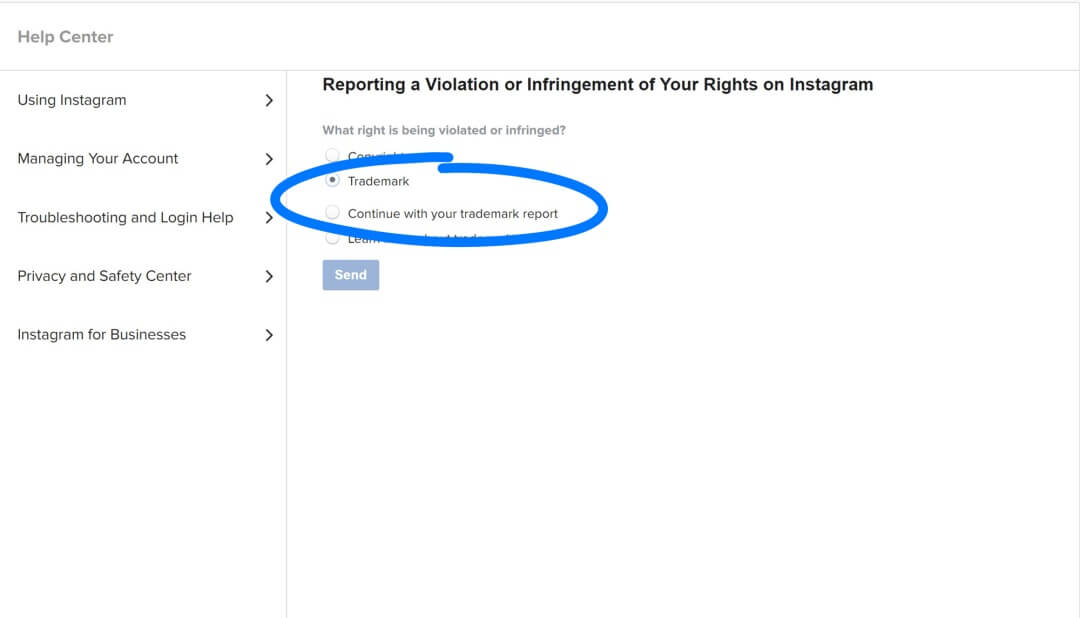 Credits: Mercating
Complete the Trademark Report Form
Before you begin this step, be in mind that Instagram may have the right to take action, including the deletion of your account, if you submit a false or fraudulent claim of trademark infringement.
Select the one that best explains your problem before moving on. I discovered some stuff that, in this situation, "I feel violates my trademark." Choose "Continue with my trademark report" after that.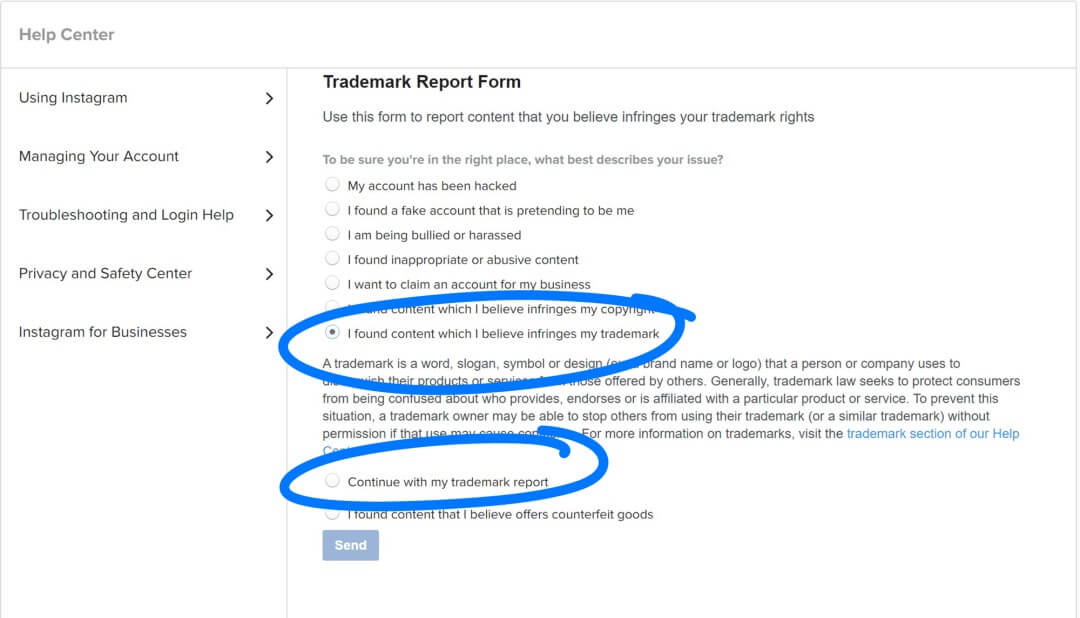 Credits: Mercating
Let's now fill up the report using the data I used for my application as an example. (I'm unable to show you a PDF of this application since it is entirely handled via email; as a result, the data you provide in the form will be sent to you as a confirmation email without any formatting.)
I will leave out a few details out of respect for your privacy.
Contact Information
You will need basic business contact information to complete this section and to learn how to get a taken Instagram username.
The trademark whose owner? Either I or my company
Adrian Rosales Conant is your name (first and last).
Your duties at work: proprietor, manager, or director (non-legal)
Address for correspondence: 9999 Apple Way, San Diego, CA
Email address: my@businessemail.com Phone: (999) 999 9999
Your email address is valid: my@businessemail.com.
The rights are owned by Mercating.
Please offer a link to mercating.com, the rights holder's official website.
Credits: Mercating
Trademark Information
You will need the details from your trademark certificate to complete this step and to find out how to get a taken Instagram username.
Although it is not required, I strongly advise you to submit the PDF of your certificate.
Why? Since this is the most crucial piece of proof you have to support your claim to ownership of this trademark.
Please take note that you may submit any more trademarks you may have inside this area.
What is your company logo? Mercating
Where is the registration for your trademark? USA / Mexico
What is the registration number for your trademark, if any? 999999
What kind of products or services are included in your registration? Services in marketing, market analysis, marketing consulting, and advertising.
If at all possible, kindly give a hyperlink (URL) to your trademark registration here: https://mytrademark.com/mybrand
Credits: Mercating
Content you wish to report
You will define and summarize the account you checked in step 1 in this section in order to learn how to get a taken Instagram username.
You need to be really detailed. Avoid creating any ambiguity and selecting a different username.
What kind of information are you presenting? Username
For the exact content you are reporting, kindly give links (URLs) or broadcast IDs that connect straight to it: https://www.instagram.com/mercating/
Verify the username you want to claim here: Mercating
If possible, kindly include the following URL for the Instagram account you want to give the username to: https://www.instagram.com/mercatiing
Would you also prefer the desired username's account to be deleted? No
If this content violates your trademark in any way, please explain: Review the sample statement I actually used to describe this part in Step 5 of the process.
Do you concur? Yes
Digital signature Conant, Adrian Rosales
Credits: Mercating
To get a taken Instagram username, write a clear statement.
Make sure you offer a clear statement since Instagram wants to know why you need to obtain a username that is already taken.
Depending on your circumstances, how you explain how the account or material violates your trademark may change. For instance, the incident I mentioned
Had no posts as of yet. (And that's how it had been for at least three years.)
Opened following the registration of my brand.
Was in the same subcategory of advertising and marketing as my brand.
Intended to publish on business and marketing as well.
Check the status of the account you wish to report in order to compose a concise and forceful remark (Step 1) if you have not already, it could be a good idea to review the information you will be reporting.
I followed these steps in my situation:
First of all, I gave some background information first.
A marketing firm called Mercating guides brands toward a better and more interconnected future.
One of our objectives at Mercating is to maintain and safeguard Mercating's authenticity online, which includes making appropriate use of social media platforms and choosing usernames. We take our branding and reputation very seriously at Mercating.
With the exception of Instagram, where we wish to start interacting with a new audience, we now have an online presence on Facebook, Twitter, YouTube, LinkedIn, Pinterest, Snapchat, TikTok, etc. under the identity "Mercating."
I then reported the problem.
Although the current Instagram account @Mercating has not yet posted anything, our main worry is that it appears they want to do so since doing so might mislead our brand's mission and reputation as well as our present and future consumers.
I then graciously requested their assistance.
In order to integrate our online identities and eventually establish Mercating as a potent brand in the online commerce space, we thus hope Instagram will take our petition into consideration.
I appreciate your help.
Sincerely,
Founder Adrian Rosales
As you can see, it is a fairly straightforward statement that mentions your name, the issue or worry, and a conclusion. You could probably accomplish it much more effectively, in my opinion.
Furthermore, you can easily be Instafamous by simply buying Instagram story views in just a matter of some time.
Wait for Instagram's Reply
Instagram will acknowledge receipt of your request and give you a confirmation email once you have submitted your report. Possibly like this: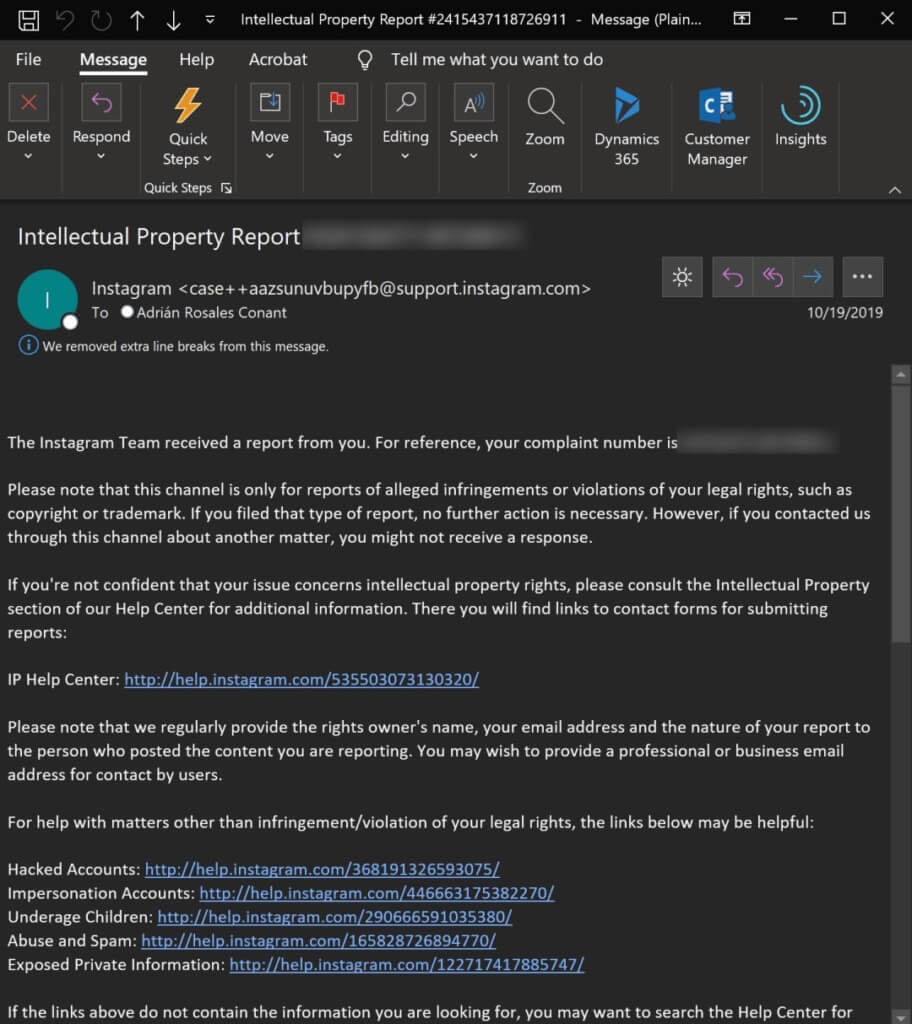 Credits: Mercating
Depending on the number of requests they must examine, the time it takes them to reply to you may change. But for the record, my matter was resolved the next day! I am overjoyed about this.
To inform you that you are the new owner of the stolen username, they will send you another confirmation email similar to this one if your request is accepted.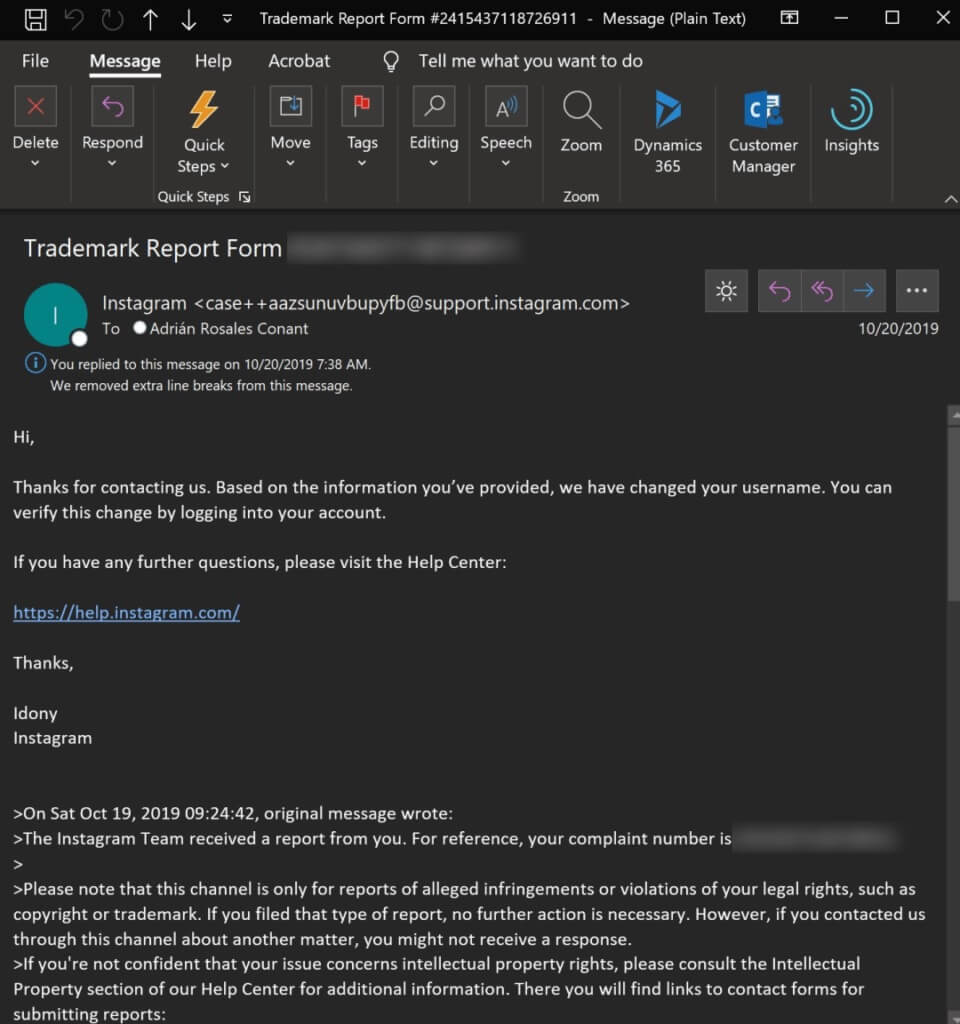 Credits: Mercating
Hence by following the above mentioned procedure thoroughly you can easily learn how to get a taken Instagram username.
Conclusion
If you are creating an Instagram account and have come up with the ideal username that captures your personality or your objective, you can find out that the handle already belongs to an inactive account.
For brands and influencers looking to launch an Instagram presence, having the right username is important. And this leads the users to question how to get a taken Instagram username.
Apart from this if you are keen to enhance your Instagram engagements. Do not worry we have got a perfect solution ready for you as you can easily purchase Instagram followers and cheap Instagram likes and enjoy the perks.
In this article we have tried our level best to find out how to get a taken Instagram username. And we hope that we were of some use to you all.
Do not forget to share your valuable feedback with us