In just a few short years, TikTok has taken the social media world by storm, captivating the attention of millions worldwide with its engaging short-form videos and vibrant user community. One of the platform's most exciting features is the ability to go live, allowing creators to connect with their audience in real-time and share unfiltered moments. If you're an aspiring TikTok influencer or content creator, you've likely wondered about the elusive follower count required to unlock the coveted live-streaming feature.
This comprehensive guide will delve into the intriguing question: "How many followers do you need to go live on TikTok?"
Whether you're a TikTok novice looking to take your first steps into the world of live streaming or a seasoned creator aiming to maximize your reach, this guide has something for everyone. Let's explore!
What is TikTok Live?
It's like your live show, where you can share the excitement with your followers. Unlike regular videos, TikTok Lives are all about spontaneity and informality, and they tend to be longer, too. Think of it as TikTok's version of Facebook Live or Instagram Live. It's a cool new way for creators and their fans to connect and have a blast together!
When individual creators go live, it's often a laid-back Q&A session where you can ask them anything and get great answers. But when brands spotlight TikTok Live, they bring their A-game!
They have a well-planned structure to amp up their brand image and make a lasting impression. So, whether you're looking for a chill chat or a brand extravaganza, TikTok Live has you covered!
How Many Followers on TikTok To Go Live?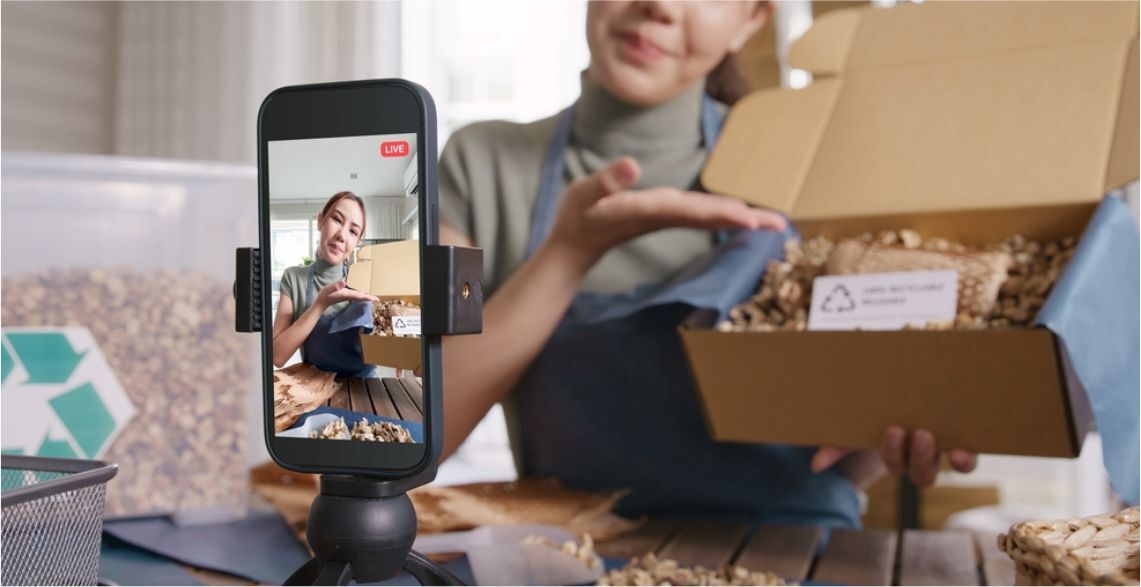 If you want to go live on TikTok, follow some rules. First, you need a cool gang of at least 1,000 followers on your account. Yeah, it's like your VIP pass to the live-streaming party. But hold up; you must also be at least 16 to join the fun.
Now, there's this rumor going around that there's a sneaky way to bypass the 1000-follower limit. But honestly, it's more of a tall tale than a legit thing. So, my advice? Take the scenic route and grow your followers the good old-fashioned way—organically and with some good old patience. Do you know "How Much TikTok Pay for 1 Million Views?" If not, then click here.
What Are The Steps To Go Live On Tiktok App?
Ready to go live on TikTok and entertain your followers? Here's your foolproof guide in six simple steps:
Step 1: Launch your TikTok app and brace yourself for some live-action. Spot the "+" icon on the bottom of your home screen and tap it eagerly.
Step 2: Time to switch things up! Swipe left at the bottom like a pro, transforming your camera into a LIVE streaming powerhouse.
Step 3: Get the setup just right. Add a catchy title, select a cool cover image, and tweak other parameters to maximize your streaming mojo.
Step 4: You're all set! Hit that "Go Live" button at the bottom with confidence. Watch the countdown on your screen; there it is, your live stream extravaganza commences instantly.
Step 5: Want to tweak things on the fly? Tap the three-dot icon for a secret menu of options. Filter comments, add jaw-dropping effects, flip the camera, and bring moderators!
Step 6: Gracefully conclude your live session by tapping the "X" in the top-left corner when wrapping things up. Bask in the glory of a successful livestream!
Pro Tip: The same steps apply whether you're rocking TikTok on your phone or tablet. You're all set to conquer the streaming world.
Also Explore: How Do You Get The Crown On TikTok?
Can You Go Live On TikTok Without 1000 Followers?
If you are looking to go live on TikTok without hitting that 1000-follower mark, We've got the inside scoop, but fair warning: it's a bit of a long shot. So here's the deal:
Step 1: Launch your TikTok app and head over to your Profile. Look for that nifty 3-dash icon in the top-right corner and give it a tap.
Step 2: Time to delve into the Settings and Privacy realm. Once you're there, seek out the Support section and click on "Report a Problem."
Step 3: Among the Popular questions, find the gem that says, "I can't start a Live." Now, here's the tricky part. When asked if your problem is resolved, you must firmly say "No."
Step 4: Now comes the fun part. You need to craft a tale of suffering about how you used to have access to go live. Type up your account and hit the Report button. Then, sit back and cross your fingers.
It's challenging, but if luck is on your side, you'll be the exception to the rule.
Check Out: How to Get a Lot of Likes on TikTok? (Hack)
FAQs
Can I go live on TikTok with 500 followers?
You need one thousand followers or more in order to use the Live function in the TikTok app.
Can I go live on TikTok with 250 followers?
TikTok is unlike any other social media app since you can interact with your fans in real-time by going live. However, the 1000-follower rule on TikTok can make it difficult for new users to go viral. Live streaming is restricted to those who have at least one thousand followers.
How to get 1,000 followers on TikTok hack?
Create interesting videos, employ trending hashtags, team up with other TikTok users, and promote your channel on other social media sites. You can promote your content using TikTok advertisements to reach more people or even buy active tiktok followers online. But remember that consistency is the most important component in growing your TikTok audience.
Final Thoughts
As you've seen, the road to going live on TikTok involves more than just a numerical follower count. It's about building a dedicated community, honing your content to resonate with your audience, and fostering genuine connections that transcend the digital realm.
So, keep creating, keep engaging, and keep sharing your unique voice with the world.
The world of TikTok is waiting, and with determination, innovation, and a touch of flair, you'll soon be hitting that "Go Live" button, ready to share your moments, stories, and talents with an eager and enthusiastic audience.